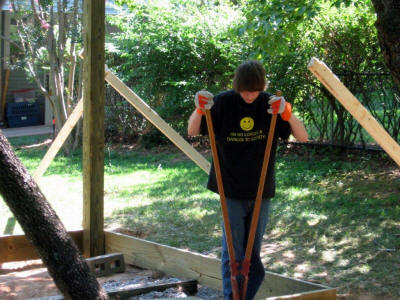 Site Preparation
Base Selection. An ideal base is compact and secure and allows for good site drainage. Recommended bases are concrete pads, compacted gravel, patio blocks or pavers. A good discussion of this issue is at Gazebo Creations. In my case, I constructed the gazebo on posts, so I did not require a continuous undersurface like a concrete slab or patio bricks to serve as a foundation. I did have to excavate a good volume of soil to level the site. After a few inches, this soil is a red clay and needs a layer of gravel to keep it from turning into a muck pond everytime in rains. I put this gravel both under the structure and surrounding it by a foot or so.
Compactibility. I backed off creating a compactible base because of my setting among dogwood trees. I used a fairly large size crushed stone (3/4 inch) from the local builders supply to allow for drainage into surface of the soil, since tree roots extended throughout my excavation area and I didn't want use a compactible gravel that would retard moisture to these roots. If you have a similar situation, ask the supplier or a arborist about the issue. My trees seem to doing okay so far and I enjoy the shade and setting of being in this little grove, but I would seek the advice of some knowledgeable people before proceeding in this situation.
A very good discussion of how to create a sturdy base for a gazebo or other garden type buildings has been prepared by tigerlogcabins.
Breaking ground. When you have all your ducks in a row, it's time to start digging. Measure and mark your gazebo location area with spray paint. This location area should be the footprint area of the structure (10'x12' in my case) plus a couple of extra feet in each dimension for drainage management.
If you haven't already done so, make sure your utility locations have been checked by the "Call Before You Dig" folks. This will also be a requirement of your permit, if you have one.
If you are planting near shade trees, you will have to dig through some tree roots and may damage them. Certain trees have very shallow roots (like the dogwoods we were planting under). We planted as close to the dogwoods in our yard as we could to get the shade, but no further to avoid as many roots as we could.
For my post design, I wanted dig enough area to create good drainage for the area under my gazebo and, particularly around my posts. This meant that there would be at least nine inches above the ground surface to the bottom of my floor beams at each post location. Good drainage will ensure that no water will pool around or under your gazebo during rainstorms. You don't want to have any water standing at any time around your posts or they will rot quickly. I had to redig around my two high side posts to address this problem.
Leveling. If you are blessed with a level site, then removing grass and other vegetation, rocks, roots and debris is all you need to do. If the site is not level, you have to level it. As you can see from the completed pictures, our site was not level.
Hand digging is great for character and physical development. My son and I hand dug the gazebo site for an entire weekend, working down through a nice layer of loam to hit the red clay common to these parts. Shoveling out big wet lumps of red clay between dogwood tree roots led us to discuss the various virtues of power tools. A bobcat would have been great, but I was worried about soil compaction and it seemed expensive considering our site was not that steep (at least we thought so when we started).
We settled on a rototiller from the local rental company, which loosened up the ground so we could dig easier. Fortunately we didn't have to move the dirt far -- just from the upper end of the site to the lower.
How do you know when your site is level? One method would be layout the foundation using up a strings and batten boards like described here. After the basic ground clearing, these can be set up and level tested using a spirit level on the strings. I found the strings to be too flimsy and inconvenient to work around while swinging my shovel, so when my site approached level, I constructed a floor frame template and used it to approximate how much more I needed to dig.
More on this in the section, Setting Posts.