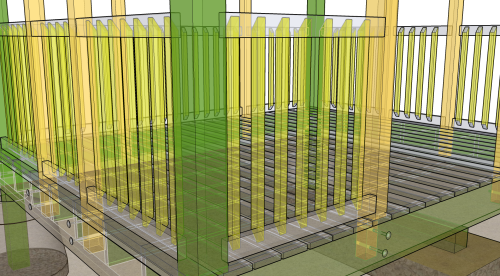 Gazebo Rails, Screens and other finishes
Rails are required by code when the drop from floor level to ground is some distance, generally three feet or so. In addition, you might build rails if you have a toddler even if the distance is not great. Even though not required, my gazebo has rails and balusters because I like the look of them. They add an element of detail and interest and I think also provide some sense of enclosure and privacy. I would not add rails, though, if they had balusters that obscured what you want to look at from inside your gazebo.
Like all architectual elements, rails can be exorbitantly expensive. To attract thieves to your yard, why not consider copper balusters? Treated wood deck style railing sold at home improvement stores is quite reasonable. Treated wood is low maintenance and can be cut and arranged in very interesting designs. I like the look of the Chippendale style deck railing (see this link) but I was ready to get on with it at this stage of the project so I choose a basic vertical style pattern. Even if your code doesn't require a railing be installed, you will likely have to meet code requirements for rail height and banister spacing if you decide to put one in.
There are many online guides to building deck style railings of the sort shown in the picture above, although mine is unusual in several regards. First, the rails are placed with the wide side (3-1/2" width) facing out, rather than on the top. Second, the bottom rail is flush with the floor boards, rather than up a few inches as shown in many designs. Thirds, the balusters are placed inside the rails, rather than outside and attached to the bottom beams.
This is an improvised rail design based on my top priority requirement to have my gazebo screened in and my decision to use a Screen Tight system to do so. If you planning a rail but not a screen, this design would not serve you.
Screening
Without a screen, my gazebo would be uninhabitable most months of the year. A screenless gazebo in this area would simply be a mosquito outdoor dining patio. Screens can be installed inexpensively by stretching and smoothing screen material onto the deck posts and rails, tacking them on, and then nailing facing boards to conceal the tacking and further securing the borders. I understand that this takes some skill and also requires that the facing boards be removed and replaced if the screen is torn.
The Screen Tight system is more expensive, but I choose it for the easier installation and maintenance. Plastic bases can easily be cut to length with snippers and screwed into the wood base. The screen is rolled into the base channel with spline cord that tightens the screen nicely. The rails provide a divide that allows you to split each post area into two panels.
Capping material is tapped onto the base for a very nice finished look. Instructions and a photo gallery can be found on the Screen Tight website and the materials are sold at Home Depot, Lowe's and other home supply stores. Some stores may carry fewer colors than can be found online, though. I ended up with a beige/brown after considering black. I used fiberglass screen rather than metal for the cost and ease of handling. I did use a slightly more expense pet-grade screen on the lower portion.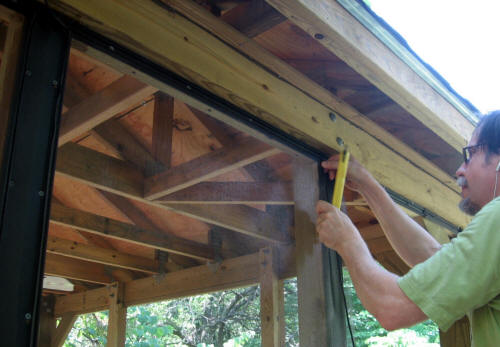 This system worked very well for me on the main surfaces of the gazebo. I banged a little hard on the cap a few times and broke the channel, so I would caution you resist doing that. As shown in the picture above, I did have to old school the screen where the roof overhangs the main structure by about a foot. To screen this area, I had to go around on a ladder and staple the screen onto to the trusses. I nailed 1" x 2" boards on the front and back edge. The alternative would be a roof that didn't overhang, which I thought looked a little wierd on the pitch angle. You could also install some other nonscreen covering in this area, like metal soffits.
Door
The screen door was a basic Home Depot wooden door which I framed in with 2" x 4" pieces with 1" x 2" for stops. This door warped slightly because I didn't pay attention the finish drying instructions --- basically finish should be applied evenly and at generally all over the surface at one time. Filling in the area around it with screen was also a chore that I might have avoided partly by spacing these posts to fit the width of a door. But I hadn't thought that far ahead.
Base treatments
The appearance of the gazebo can be improved by hiding the spans and bolts around the base. A wood facing can be tacked on this area, or stone or brickwork installed. A much easier and less expensive alternative is to plant a small hedge. I got several end-of-season deals on viburnum plants at Lowes. By the following season, these provided a nice screen, especially on the high side of the gazebo.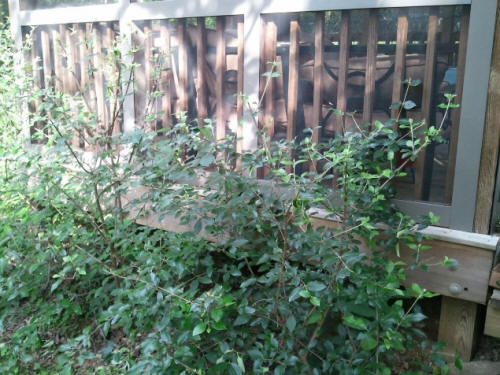 Other finishes
You can see from the photos that I also built a small deck in front of the gazebo. At least one step was needed to get into the gazebo but I also needed some way to take care of the appearance of the front, which was tricky since it sloped. So I cobbled together a two level deck on deck blocks in a weekend. It's turned out to be one of the best things about the project. It's a great staging area for blowing bubbles, collecting bugs, or other backyard adventures with the grandkids.
Fans and outlets
Since we were close to the house and had a tax rebate to put into the local economy, I hired an electrician to put in a outdoor outlet and light fixture, for which I found a nice outdoor grade ceiling fan. The outlet powers my laptop, which is just in range of the wireless router in my house, and the ceiling fan provides just enough retro style cooling for me to enjoy a bug free evening with a gin and tonic sitting and watching the view with my sweetie. We have even taken to plugging in an oil-filled electric radiator and enjoying it in the dead of winter. That is pushing it, but it's such a great little space to be.