Getting started: Gazebo plans and permits
After you get done reading this, you may not go further.
Check with your building department about permit requirements. Will you need a permit? The only way to find out is to ask. Some building permit agencies will use square footage or project size in dollars to determine the permit requirement cutoff. There may be requirements for setbacks (how close to neighbor's property or street), maximum lot coverage, number of outbuildings, and plan submissions specifications such as a legal survey with proposed building site location, type of lumber, span sizes, pier depth, and other foundation, framing, and roofing details. Homeowner's association approvals may be required. Structures attached to existing structures, even by decks, may require additional reviews or approvals. Underground utilities will be to inspected and marked prior to construction. Electrical and water connections will further increase the design and review process. In addition to fees for application and reviews, you will also be subject to inspections at one or more stages of the process. For example, you may require an inspection of the posthole footings before concrete is poured and of the framing before the decking is nailed on, as well as a final inspection.
Where to get gazebo plans. I checked out several free gazebo plans sites on the web and purchased at least four sets. Some are very detailed and some are little more than diagrams. You need to have plans before you can undertake this project and the more detailed the better. I couldn't decipher the first set of cheap plans I bought and found out that the building code permit officer couldn't figure them out either. They were just poorly done.
Also, the building guy didn't like some of the design specifications in these plans so I had to revise them. Long story short, I ended up making my own. The building inspector said it wouldn't have been built the way I did it if he would have done it, but it passed. Codes vary from place to place but many are the same as those used in my locality: based on the 2003 International Residential Code (IRC). But the only way to find out is to ask, and that should be the first step in your project.
I've copied my design into Google Sketchup (version 7 or later). This is a free downloadable 3D rendering program that allows the viewer to move around a structure or area in 3D space. I've included it here free for your download and viewing, for whatever value you might find in it. It is a roughly accurate rendering of what I built and what I describe in later pages. It's not an official building plan, though, and use it at your own risk -- I don't warranty the dimensions or methods. I might get someone to render it into a layout suitable for submission to a building department at some point in the future.
Where to site your gazebo. In addition to your structure plan and setting, you need to make some decisions about where to locate the gazebo on your property. Here are some things to consider: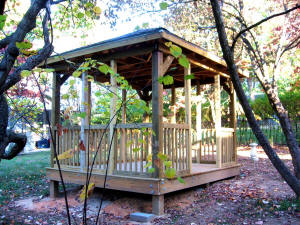 Views. In theory, this should be your main consideration. The word gazebo has roots in "view". You should locate your gazebo where inhabitants can see an interesting visual focal point, whether in your own yard or in the vicinity. But you don't want to block views from other parts of your house or yard that you currently enjoy. Also, think about how light coming into your house might be affected. Mine is located on the high part of my yard and I have a nice view down the tree-lined street of my neighborhood, as well of a beautiful garden that my girlfriend created around the gazebo.
Sun and shade. If you will be using your gazebo in the summer, you can locate your gazebo in the shade to avoid heat. I did that and now enjoy a much cooler interior than if I had located it a few feet out into the sunny part of the yard (but working the roof under those dogwood trees was a pain!). You should also consider sun and shade in different times of the year.
Leveling site. If you have more than one option for locating the gazebo and all other things are equal, go for the level site. It will save you lots of time at several steps in the process. My site was not level, as can be seen in these photos, and I'm still working out the problems associated with building on a hillside. Since I was burying my posts, the height of my posts on the downside of the area was my limiting factor.
Privacy. This consideration may conflict with your desire for a great view, but should be a factor in how you locate your gazebo. Do you want your neighbors view to include you relaxing in your gazebo?
Setbacks. Your building code may require that your construction be a specified distance from your property boundaries.
Levelness. Building on a slope will greatly increase the amount of site preparation required. If you have a choice, pick a level site. I didn't have much of a choice, but the problems involved with non-level sites are more than you anticipate.
Soil types. Removing soil and digging several feet deep (depending on your frost level)
Underground utilities. You must contact and get approval from your call-before-you-dig agency, even if you are not required to get a building permit by your local permitting authority
Access to utilities. You may not think utilities are important in your location decisions, but if your gazebo is a success, these may become important. You might decide you want electricity and water after all. Plan ahead and consider these in your site decision.
Read about Site Preparation...