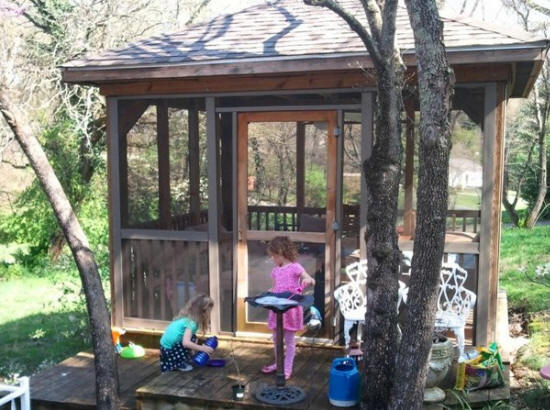 Do it yourself gazebo project
What's here: Simple design and instructions for how to build an inexpensive rectangular gazebo. Not a kit -- except for the roof trusses, you start with uncut lumber and assemble all pieces. A 3D downloadable Google Sketchup of the project is included.
Total Price: About $2000 to $3000 in materials, depending on material choices, and whether you add railing and/or screening.
Time: Several weekends
Why do it yourself? When I decided I really wanted a gazebo for my backyard, I got some estimates from local builders, looked at the prefab stuff at Home Depot and the like, and researched online for kits. Ouch. I'll build it myself and save money, I thought. I'm not a carpenter but I'm willing to pick up a hammer or saw for basic projects around the house. I figured I could translate to this to the skills needed for the gazebo project. After lots of research, consultation with friends, and many trips to the local home building supply stores, we built this 10 x 12 gazebo.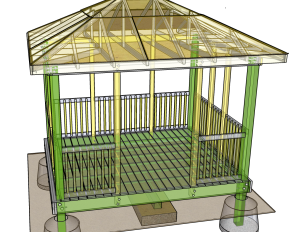 If I counted my time, I didn't save money -- probably spent too much. Some of that time was miserable, being eaten by mosquitos in the heat, bickering with helpers, and wondering why I wasn't at the lake this weekend. But overall it was a good project to do with my son, and our family enjoys this little haven to no end. Reliving the misery of construction is part of that enjoyment.
A last warning -- turn back now! In case I didn't emphasize how much harder this is than I thought it would be, let me very be specific. If you want to save money, buy a kit and skip a good part of the pain and maybe end up about the same price or even less. Typical completion time estimates for these projects are total lies, unless you have the Extreme Makeover Home Edition crew helping you. If you don't, I promise you will regret starting this project many times in the course of it. Don't say I didn't warn you.
If you know what you are doing, this isn't the site for you. But if you want to save maybe a little cash and have lots of spare time, some basic carpentry skills, and -- most importantly -- would enjoy the many small challenges involved in this project, read further.
Free Gazebo Plan? Sort of.
This is a very basic structure designed to be easy and inexpensive to build. It can be made more ornate and visually appealing than what I have described here, but probably not less so.
You can download the Google Sketchup file here for free. (You should be able to download the skp file just by clicking on the link in the previous sentence, but try to right click the link if that doesn't work). If you don't have Sketchup, a free version is downloadable here. This structure in the sketchup file is pretty much as I built it, including the bolts. I left off shingles, the porch door and screening to save memory. Be warned that my sketchup skills are as good as my carpentry skills. But you can zoom into to any feature in this software and be very clear about the relationship of the components in space, which is something that is confusing on building drawings if you are a nonprofessional.
This sketchup doesn't include annotated text measurements of lumber and other dimensions of the structure, although I have attempted to reproduce these correctly within the measurement scale of the drawing. You will have to also create your own materials list. So this isn't a "free gazebo plan" that you can submit to a building permit with no modification. Some departments will require blueprints that have engineering stamps certifying compliance with local building codes. Structures 110 feet or larger is a common cutoff for this requirements, so check with your building permit department first before spending a lot of time of the sketchup approach.
This sketchup file is based on a gazebo design I purchased that wasn't very good. It was overdesigned in some areas, underdesigned in others, and incomprehensible to read (not just to me, but to the building permit authority). With some help I deciphered it and then changed it significantly to meet my skills and local codes. I'm not a builder or engineer though, so proceed at your own risk and get the advice of qualified builders and the approval of building authorities before you commit.
Most importantly, you can use sketchup program to change the design according to your own tastes and requirements. You can choose a different railing, roofing system, or foundation system to suit local soil conditions or building requirements. You might consider making a less expensive 10' x 10' gazebo, for example, and leave out the support skid. That might also put you under the permit drawing requirement.
This website breaks down each stage of the project and tells how I figured out what the plans did not tell me. I've also included links to sites that have useful techniques for notching posts, setting concrete, and other basic tasks required to build this gazebo, along with pictures or sketchup images.